Let's face it: prepping can be expensive! Every dollar saved is an extra dollar you can use to buy more supplies. That's why it only makes sense to shop for prepping supplies at discount stores like Dollar Tree.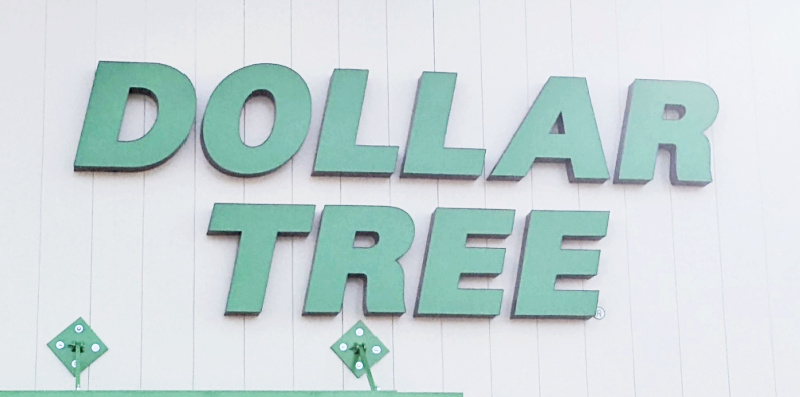 Here we share a recent shopping trip to our local Dollar Tree and some of the awesome prepping supplies we found!
The last several months have seen some crazy inflation, with financial forecasts showing no end in sight. While Dollar Tree has long been known as the "everything's a dollar store," they've announced that due to inflation some items will now cost more than a dollar.
But even at $1.25, most of the prices at Dollar Tree are usually better than you'll find at other stores like Wal-Mart.
Recently the team here at Prepping World took a trip to the local Dollar Tree to see what kind of prepping items we could find. We weren't disappointed! Here are some of the cool prepper and survival items we found.
Dollar Tree Prepping Tools and Hardware
Dollar Tree has an impressive assortment of inexpensive hardware tools. From hammers and screwdrivers to padlocks and utility knives, these are some of the most useful prepping items you can find.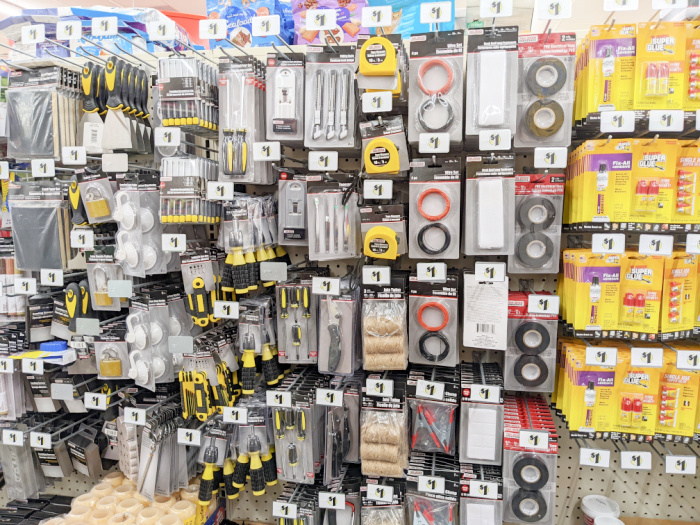 You'll want to look elsewhere if you need heavy-duty tools that will stand up to long-term use. But for everyday basic tools, you'll want to pick up one (or two, or three) of each type to store in your prepping cache.
You'll definitely want to get an assortment of carabiner clips. These clips are perfect for attaching to belt loops, backpacks and more, and are a great choice for prepping projects.
You can also find paracords and different types of rope at Dollar Tree. It goes without saying that rope can be one of the most useful items for any type of prepping or survival situation.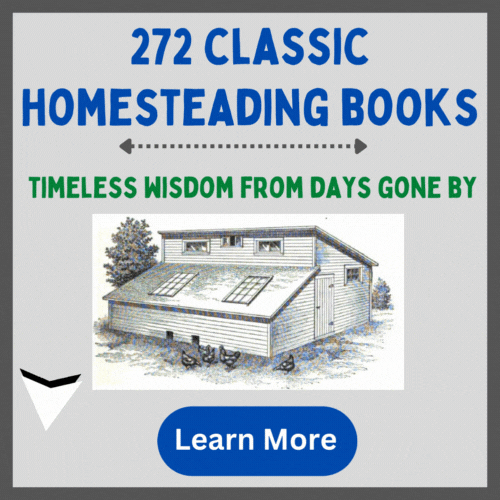 Dollar Tree Prepping Storage Containers
It's hard to have too many storage containers. Whether you're storing food, tools, seeds, ammo, or anything else, having a good supply of different sized storage boxes is a great idea.
Dollar Tree has a really good selection of storage boxes and bins. From tool boxes that are perfect for stashing and organizing all kinds of prepping supplies, to see-through plastic boxes that allow for easy identification of the contents, to mini organizers with drawers, you can't go wrong with stocking up on these items.
Some of the most useful storage items are plastic organizer cases. These cases usually have nine compartments that are perfect for holding things like screws, air rifle pellets, or other small items.
You can also find open baskets and bins for items that don't need to be stored in a closed box.
Dollar Tree Prepping Batteries
Whether or not the electrical power goes out, having a stash of batteries is a must. To keep your flashlights and radios going, you'll need an abundant supply of the most common battery sizes D, C, AA and AAA.
While some preppers prefer rechargeable batteries, they are more expensive and require a way to recharge them, which can be a challenge if the grid is down.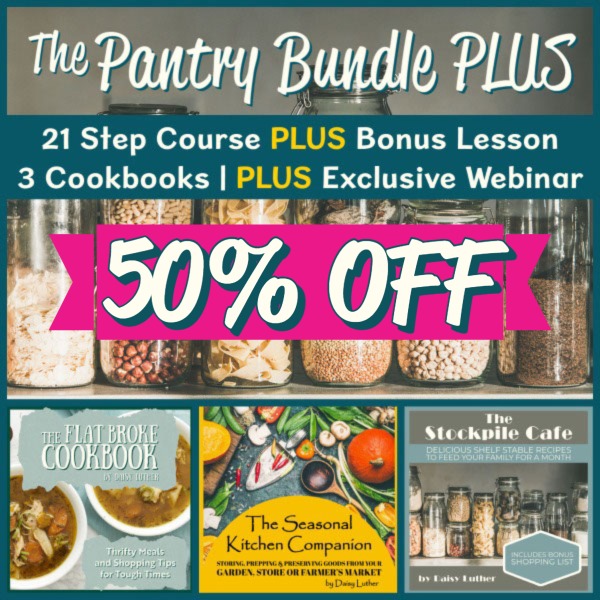 Dollar Tree has a respectable selection of disposable batteries. The quality isn't quite up to the same standards as well-known brands like Duracell or Energizer, so they won't last as long, but the price is definitely more affordable.
Dollar Tree Light Bulbs and Flashlights
If the electrical grid goes down, you'll need a way to provide light to your home.
You can find a good assortment of lighting products at Dollar Tree. From various sizes and lumens of flashlights, to desk lamps and self-adhesive LED lights, these are some of the most important prepping supplies you'll want to get.
They even have LED head lamps, lanterns, and compact works lights, which can all be useful when you're doing a project where you need your hands to be free.
And don't forget to stock up on light bulbs. The newer LED bulbs can last for years and could be hard to come by in the event of social breakdown and upheaval.
Dollar Tree Prepping Lighters and Matches
Having a way to start a fire can be one of the most important needs in a prepping/survival situation.
Dollar Tree has you covered here with a selection of matches and lighters. Matches are good for starting a fire where a lighter isn't ideal such as igniting a flammable liquid.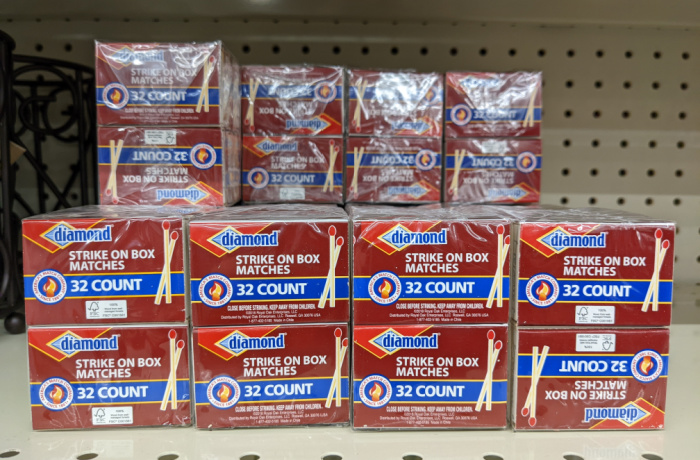 Both disposable and refillable lighters are available. The refillable ones use butane, which you will need to purchase elsewhere.
Dollar Tree Pepping First Aid Supplies
Be sure not to overlook the selection of first aid and health-related items at Dollar Tree!
Products like hydrogen peroxide, bandages, hand sanitizer, dental hygiene and much more are available, although sometimes in short supply, possibly due to all the people who are stocking up these days.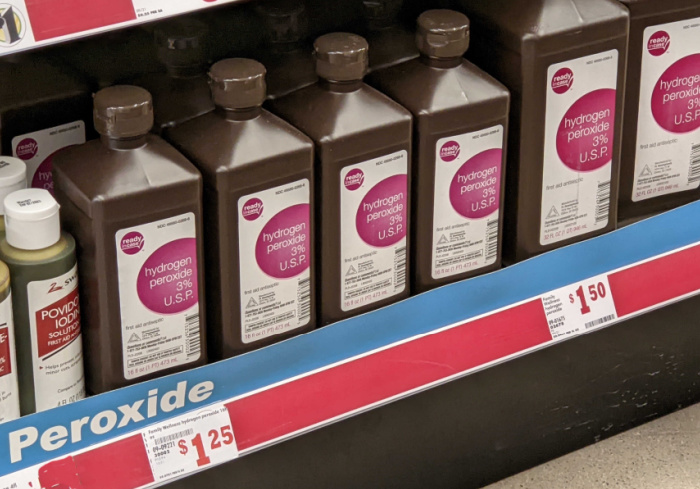 Baking soda is another "must have" item that can be used both for health purposes (as an antacid or alkalizer) and in food preparation.
Dollar Tree Prepping Food Items
Food storage is one of the biggest priorities in prepping. Shopping at Dollar Tree can help you build up your food stores without breaking the bank.
From shelf-stable milk, to canned meats, to crackers and nuts, you can find all kinds of affordable food items at Dollar Tree.
You'll want to think in terms of shelf life, which means canned goods are your best bet for long-term food prepping.
Other Prepping Items at Dollar Tree
In addition to all of the items outlined above, you can find some other great prepping supplies at Dollar Tree. Items such as extension cords, super glue, trash bags, tarps, can openers, and duct tape are all valuable to include in your prepping stash.
My local Dollar Tree also recently had HandiHeat cans of 2.4 hour chafing fuel.
No doubt we've missed an item or two that is available at Dollar Tree. Have you found any other great prepping finds at your local Dollar Tree store?