Preppers are always looking for ways to be more self-sufficient. One excellent way to become more independent is by using solar power. Here we go over solar power basics for preppers, including how to get started in a way that's affordable and doable even for beginners.
Solar power can be used to power homes, heat water, and even cook food. It is a renewable resource that is free once you have the initial investment in solar panels and batteries. Preppers should seriously consider adding solar power to their list of self-sufficiency strategies.
By clicking an affiliate link below, we may receive a commission on purchases at no additional cost to you.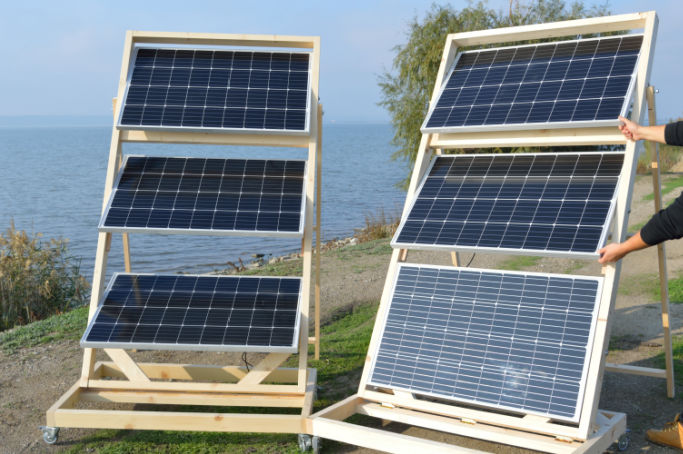 What is Solar Power?
Solar power is a renewable energy source that is quickly becoming popular as an alternative to traditional fossil fuels.
As a clean and renewable energy source, solar power can be used to generate electricity or heat. Solar power comes from the sun ("sol" means "sun" in Latin), and it can be used to power homes, businesses, and even cars
In addition to being a clean and renewable source of energy, solar power has the potential to provide significant economic benefits by creating jobs and reducing greenhouse gas emissions.
📌 Save for later! 📌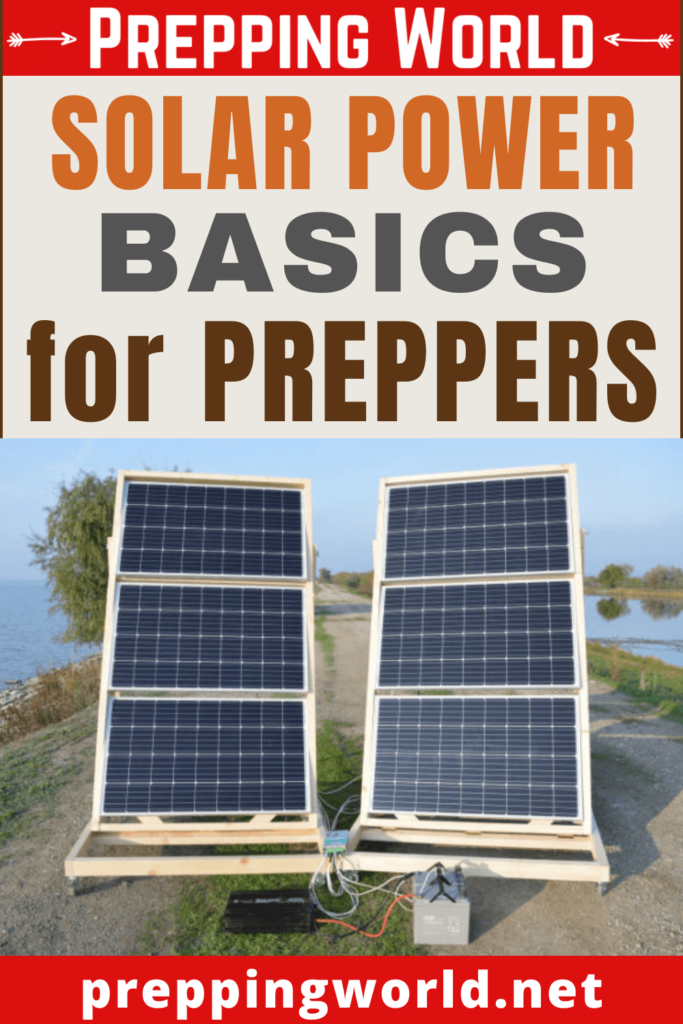 Why is Solar Power an Important Resource for Preppers?
In the event of an emergency situation like an EMP or grid-down scenario, it is important to have a reliable backup source of power. Solar power is an important resource for preppers because it is renewable, affordable, and can be used to power essential devices.
Solar power is a renewable resource, meaning it can be used over and over again. It is also generally environmentally friendly and does not produce harmful emissions, or loud noise like a gasoline generator.
As the cost of traditional energy sources continues to rise, solar power is becoming increasingly affordable for homeowners. Solar technology has improved greatly in recent years, making it more efficient and less expensive to install.
In addition to a reasonable upfront purchase price, rebates and tax incentives are often available, making solar installation an even more attractive option. Even if you have a significant initial investment, solar power can save you money in the long run by reducing your energy costs.
Solar power can also be used to power essential devices like home heaters and appliances in the event of an emergency situation. As more and more people look for ways to be prepared for emergencies, solar power is becoming a popular option for backup power.
The Basics of Solar Power: How it Works
Solar power is captured through the use of solar panels, which convert sunlight into electrical energy.
There are two main types of solar power: passive and active. Passive solar power does not require the use of any mechanical devices to capture and convert sunlight into energy. Examples of using passive solar power are seen with solar camping showers and solar greenhouses. In this article we'll discuss active solar power.
Active solar power uses devices such as solar panels or mirrors to capture and convert sunlight into electrical energy.
Solar panels are devices that convert sunlight into electricity. They are made up of solar cells, which are made of silicon. When the sun's rays hit the solar cell, they knock electrons loose from the silicon atoms. The electrons flow through wires to create an electric current. This current can then be used to power electrical devices.
Solar panels are usually mounted on roofs, where they can get direct sunlight, but portable solar panels are a popular option as well.
As solar panels collect energy from the sun, it can then be converted into electricity. Solar panels are connected to devices called regulators that control the flow of electricity into batteries.
Batteries are often used to store solar energy so that it can be used when the sun is not shining. There are two main types of batteries: lead-acid batteries and lithium-ion batteries.
Inverters are then used to convert the DC (direct current) electricity from a battery into AC (alternating current) to power devices.
The Benefits of Solar Power for Preppers
There are many benefits to using solar power for preparedness emergencies.
The primary benefit of having solar power is gaining independence from an electrical grid that can be unstable and unreliable. When it comes to being prepared for anything, having a reliable source of electrical power is key.
For preppers, having a way to generate your own electricity is crucial in the event of an emergency. Solar power can provide that independence from the grid, and it's a renewable resource that can help you be self-sufficient even on a long-term basis.
Being energy independent and self-sufficient means that in the event of an emergency, you will still have access to the things you need like electrically powered heating, security systems, and refrigeration.
What You Need to Get Started With Solar Power
There are a few things to keep in mind when getting started with solar power. Solar power can be used to supplement an existing energy source, or it can be used as the sole source of energy.
To get the most benefit, solar panels need to be placed in an area that will get direct sunlight for the majority of the day. Solar panels can be placed on the ground or on the roof of a home, RV, or building like a shed.
The angle at which your panels are placed is important, as it affects how much sun they will get. If they are not placed in an area with maximum sun exposure, they will not produce as much electricity. If possible, you may want to consider using an automatic tracking system so that your panels always face the sun.
You should research what equipment will best suit your needs and whether you'll hire professional solar installers or go the DIY route.
A ready-to-use solar panel kit like this one that has just about everything you need is a great option for getting started.
If you can afford it, you should also have a backup power source such as a generator. This is important in case of cloudy days or a failure of your solar panels.
A dual-fuel generator that runs off of both gasoline and propane is a great option to increase your flexibility with fuel sources.
The Challenges of Solar Power for Preppers
As with any type of project, you're sure to face some challenge when getting started with solar power.
The first challenge with solar panels is the initial investment. The average cost of solar panels has dropped dramatically in recent years, making them a more viable investment for the average homeowner. Solar panels are now cheaper than ever before.
In addition to the energy independence provided by a home solar system, you could also save money on energy bills.
While solar panels are a great way for preppers to gain self-sufficiency, panels are not cheap. The initial investment can be quite costly, but the long-term savings are usually worth it. Solar panels will pay for themselves over time, and give you peace of mind of a backup power source in the event of emergencies.
Another challenge with home solar power is maintenance.
Many people believe that solar panels are maintenance free. However, solar panels need to be cleaned and inspected on a regular basis to ensure they are working properly. Here are a few tips on how to maintain your home solar power system:
Clean your solar panels regularly. Dust, dirt, and leaves can build up on your panels and reduce their efficiency. Use a soft brush or cloth to gently remove any debris.
Inspect your panels regularly for signs of damage. Look for cracks, scratches, or other damage that could affect the performance of your panels.
Keep an eye on the electrical connections between your solar panels and the rest of your system. Make sure all connections are tight and free of corrosion.
It's a good idea to have your system checked by a qualified technician at least once a year to ensure it is operating at peak efficiency.
The Bottom Line on Solar Power for Preppers: Is it Worth it?
Solar power can provide electricity in an emergency situation when the grid is down or when gas generators are not available. Having electricity to power your home appliances and personal devices can make the difference between life and death, or at the very least between comfort and misery.
Interested in our recommendation for DIY solar panels? Check out this informational video on building your own affordable 6-foot solar tower that cuts power bills by up to 65%.
Preppers must be prepared for any eventuality, and having a reliable source of solar power can make all the difference in a crisis situation. Solar power is an important resource that should not be overlooked when preparing for emergencies.
READ NEXT: