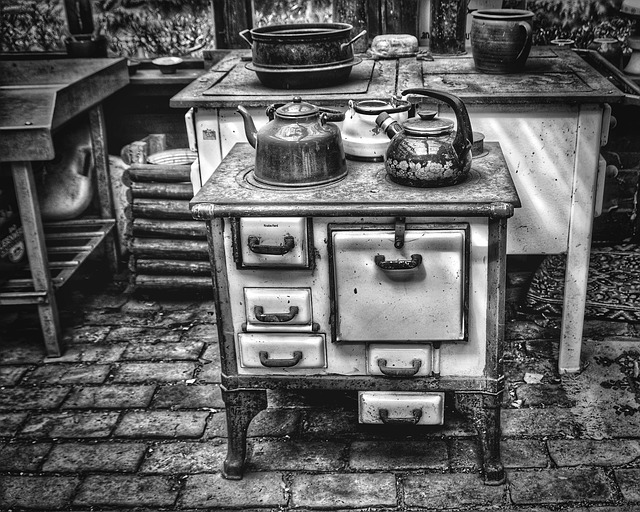 In today's world, more and more people are interested in lessening their dependence on traditional utilities like electricity, gas, and water. For some, this means looking for off-grid kitchen ideas. Others simply want to be prepared for unexpected long-term power outages.
In either case, having the right non-electric kitchen tools can make all the difference in preparing food in grid-down or long-term off-grid scenarios.
In this article, we'll take a look at some of the best manual kitchen tools that don't need electricity. The right tools can make your life a lot easier when you're off the grid and electricity is unavailable.
By clicking an affiliate link below, we may receive a commission on purchases at no additional cost to you.
Why would you have an off-grid kitchen?
An off-grid kitchen is a term used to describe a kitchen that is not connected to the main power grid. This can be by intentional choice through opting to live off the grid, due to a natural disaster like hurricanes or ice storms, or from a SHTF scenario like an EMP or attack on the power grid.
Off-gridders still have many options to power an off-grid kitchen, including solar panels, wind turbines, and generators. But for the purposes of this article, we'll only be looking at non-electric manual kitchen tools that can be used without electricity.
Here are ten of the best non-electric kitchen tools for when you're without electricity.
📌 Save for later! 📌
Can opener
Any prepper worth his or her salt will stock up on canned goods like beans, vegetables and meats. But if the power goes out and the only tool you have to open your cans is an electric can opener… well, you get the idea.
You'd be surprised how many people stock up on canned goods but either don't have a manual can opener at all, or only have one of those cheap openers that is either difficult to use or stops working after only a few uses.
There are all styles and types of non-electric can openers. We always recommend a name brand, high-quality can opener with lots of good reviews. It's a great idea to have two or three openers in case one stops working or you want one as a high-value barter item.
Camping stove
For cooking without electricity, nothing is as simple as an old-fashioned camp stove.
For maximum versatility, we recommend getting a dual fuel camping stove that uses both butane and propane as the fuel source.
These stoves always carry a warning not to use indoors but many people use theirs inside a house, RV, etc., without any issues.
Don't forget the fuel for your camp stove!
Ice chest
Another must-have non-electric off-grid kitchen tool is an ice chest.
An ice chest can buy you precious time if the power goes out and you want to preserve refrigerated or frozen items that may otherwise spoil.
A good quality ice chest with extra insulation can actually keep things frozen for up to five days even in warm weather.
If the power goes off in the winter time and it's cold outside, you can store food in an ice chest outdoors. This protects the food from predators and potentially keeps it frozen for many weeks in northern climates. (Of course, if your house is unheated, just keep the ice chest indoors.)
Solar oven
Solar ovens are another popular non-electric kitchen tool. These can be used to cook food without using any electricity or gas.
A solar oven is a device that uses the sun's energy to heat your food. Solar ovens are a very efficient way to cook, as they can reach temperatures of up to 300 degrees Fahrenheit. They are also portable, making them ideal if you need to take it on the road.
The disadvantage is that you won't be able to cook on a cloudy or overcast day. But if the sun is shining, a solar oven is a great way to go.
For cloudy days when you need to cook, a charcoal grill is a fantastic cooking option. (You can also use small wood pieces in place of charcoal.)
Water filter
Having pure, clean water for drinking and cooking is an absolute must in any grid-down situation.
There are a lot of options with affordable water purification filters, but a filter with multi-stage filtration is best.
Hand crank grain mill
Many preppers stock up on grain as part of their food storage stash. But if the power is off and you need to grind grain, you'll need a manual grain mill to get the job done.
Hand crank grain mills come in an assortment of sizes. You'll want one that is adjustable so you can control how fine or coarse the milled flour comes out.
Hand crank egg beater
For scrambling eggs, a manual egg beater is another must-have non-electric kitchen tool.
These are also great for whipping cream and mixing batters like for pancakes and breads.
Coffee grinder
If you're a coffee drinker and prefer to store unroasted coffee beans for long-term storage, then a hand-operated coffee grinder is another essential tool.
When looking for a manual coffee grinder, one that has adjustable settings is ideal. This allows you to choose the coarseness of the grind.
Stainless steel percolator
You won't be able to make coffee in an off-grid scenario without a percolator.
You'll need a high-quality stainless steel percolator. Many people report that coffee prepared over a fire with a percolator yields a deeper, richer flavor.
You can also use loose leaf tea in your percolator.
Cast iron cookware
Our last (but definitely not least!) recommendation for non-electric kitchen tools is cast iron cookware.
For cooking over an open flame, cast iron is definitely the way to go.
A cast iron Dutch oven is an incredibly useful piece of cookware. They are perfect for soups, chili and stews. You can eve cook breads like biscuits in them!
Cast iron skillets are also very useful for frying all sorts of meats, making pancakes, and cooking vegetables.
Learning from the original homesteaders
How would you like to sit down with a pioneer or homesteader from the 19th or early 20th centuries? You know, the kind who raised all of their own food, built their own house, and did everything without electricity and running water?
Well, we can't transport you back in time to meet an old-time homesteader, but we've got the next best thing!
The Ultimate Homesteading eBook Bundle is an incredible collection of 272 hand-picked titles written by homesteading experts in the late 1800s and early 1900s.
Each book has been digitized into an easy-to-use format and is crammed full of little-known secrets:
How to grow all the food you need even in less-than-ideal condition
How to raise chickens, cows and other animals to provide fresh meat and eggs
How to build a simple house using the materials local to your area
How to learn handiwork skills like sewing
How to preserve food using traditional preservation methods
These books have been bundled together by category and are perfect for preppers and homesteaders. The information found in these books is a true treasure trove that will be invaluable in any type of grid-down scenario where you need to quickly get up to speed on how to live without electricity and other modern conveniences.
Final thoughts on non-electric kitchen tools
In an off-grid scenario where you need to prepare food without electricity, you'll need several basic tools to be up to the task.
The non-electric kitchen tools mentioned above are among the best items to have on hand to keep you alive and well in any SHTF scenario.