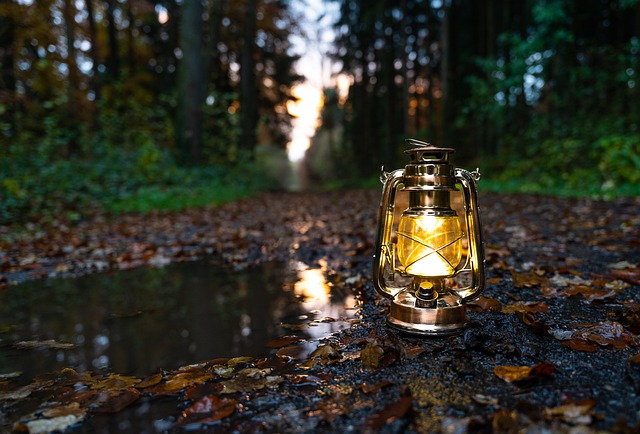 Light is an essential part of our daily life that we usually take for granted. But what if a natural disaster or other type of emergency happens and your power goes out? What would YOU do for emergency lights in a grid-down situation such as an EMP or natural disaster?
In this article we're going to discuss some easy and affordable emergency lighting for the home to use when the lights go out!
Here's the Prepping World list of 10 light sources for when the power goes out!
By clicking an affiliate link below, we may receive a commission on purchases at no additional cost to you.
Oil Lamps
Oil lamps have been used for lighting for many hundreds of years. They were the primary light source for our ancestors before the advent of electrical power.
Oil lamps come in all different types of shapes and sizes, so you can pick the one(s) with the appearance and features that you prefer.
We've picked up several cool old oil lamps at flea markets and antique stores.
You'll want to have plenty of lamp oil on hand, and some extra wicks to replace the ones that get used up.
Make sure you use oil specifically made for burning indoors or you'll have a smoky and potentially dangerous room.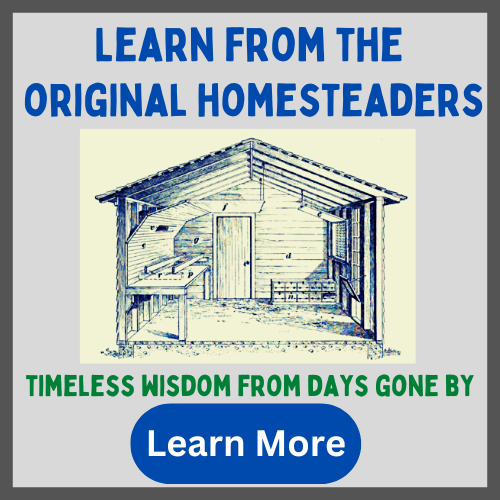 Candles
This one seems pretty obvious, but your prepping stash should contain a lot of candles.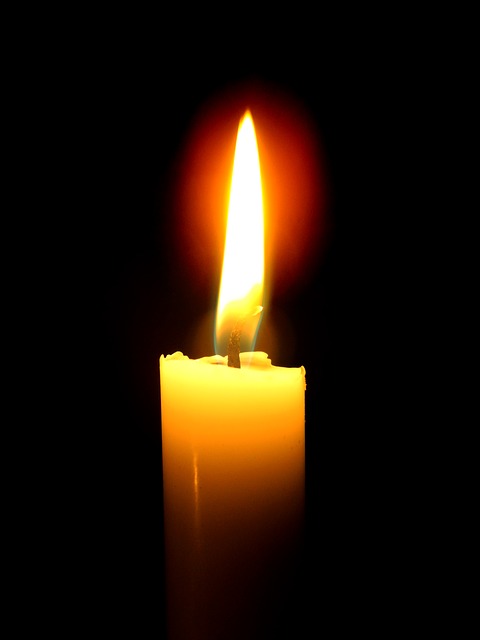 Candles burn for quite a while, are affordable, and very easy to use.
Having some type of candle holder to keep the candle upright and collect dripping wax is a great idea. A glass -walled candle lantern is also great for keeping stray objects out of the flame, and will also protect the flame from breezes.
Make sure you have a good supply of lighters and/or matches!
📌 Save for later! 📌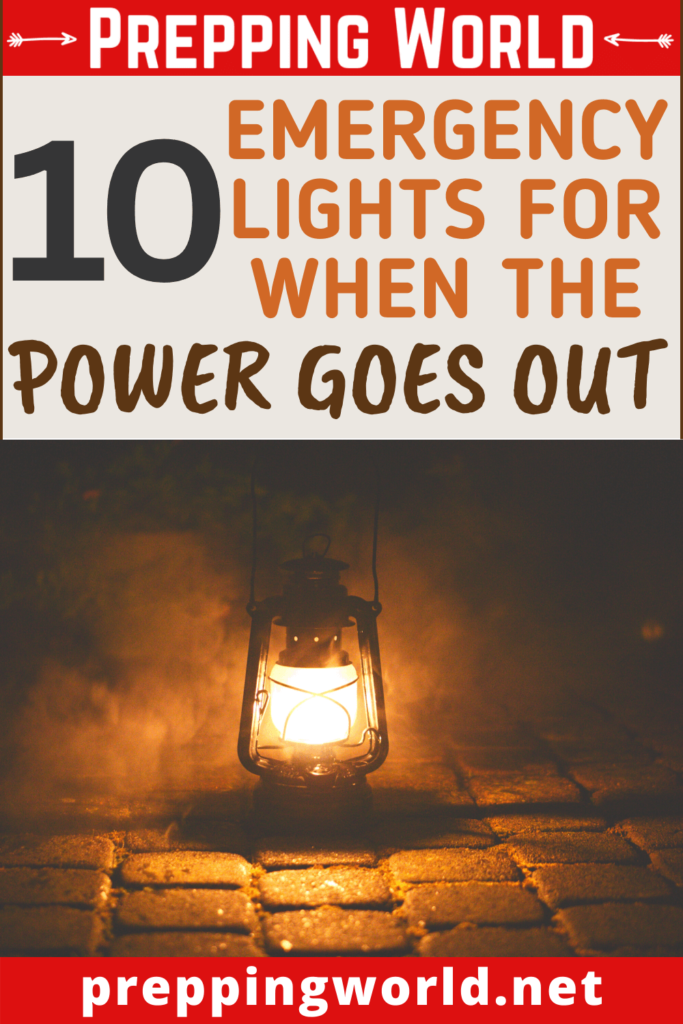 Alcohol Lamps
Alcohol lamps are similar to oil lamps, but as the name suggests, the fuel source is alcohol.
While all alcohol is flammable, you'll want to use at least 95% ethanol for best results. The flame is clear and bright, and may also be used for cooking since it gets very hot.
Alcohol lamps are inexpensive and a great option for emergency lighting.
Olive Oil
Another option for emergency lighting when the power goes out is to use olive oil as fuel. All you need is a lamp with a wick, and some olive oil.
To use olive oil as a fuel, fill the lamp with oil so that the wick is saturated. Then, light the wick and allow it to burn until it burns out on its own.

Olive oil is a great emergency lighting option because it is easy to find and it burns cleanly.
Solar Yard Lights
If you don't already have some solar yard or garden lights at your house, you've probably seen them in your neighbor's yard.
These simple devices are placed in the ground lining sidewalks or in garden areas. Using renewable solar energy, they provide a decent amount of light. As long as you have sunlight, they will last for years.
If the power goes out and you don't have other lighting available, bringing in a few of these lights from your yard at night can give you another emergency lighting source for your home.
Solar yard lights are a great emergency lighting option
Phone Flashlights
Everyone knows to have a few flashlights around your house for portable lighting, but did you know that most phones also come with a flashlight function?
Different phones have different ways of activating the flashlight feature. With some phones, you open the phone's camera and turn on the camera light.
Other phones may already have an app to use your camera light as a flashlight, or you may need to download one.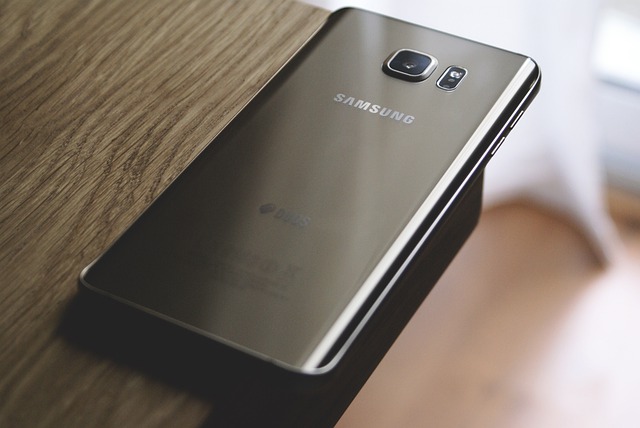 As a bonus tip, a phone can also be used to signal for help. If you are lost out in the woods or mountains, go to a high hill and flash the camera light to attract the notice of rescuers.
Solar Powered Lanterns
Another great emergency light source is a solar powered lantern.
These are very popular for use with camping when you need some light to use in a tent at night.
Renewable lighting options are ideal since they last so much longer than non-renewable lights like candles and oil lamps.
Glow Sticks
Remember those fun glow sticks that kids use at night?
Glow sticks come in all shapes and sizes and tend to be very affordable. You can even find them at places like Dollar Tree!
You can even get super-sized glow sticks that reportedly last for over 12 hours.
Shortening
Another little-known fuel source is shortening.
Like olive oil, shortening can be used in a lamp with a wick to provide a flame. Depending ont the purity of the shortening, it may be a little smoky when lit.
To use shortening as a fuel, first fill a clean can with solid shortening. Place the can in a well-ventilated area and heat it until the shortening melts. Use caution when handling the hot can.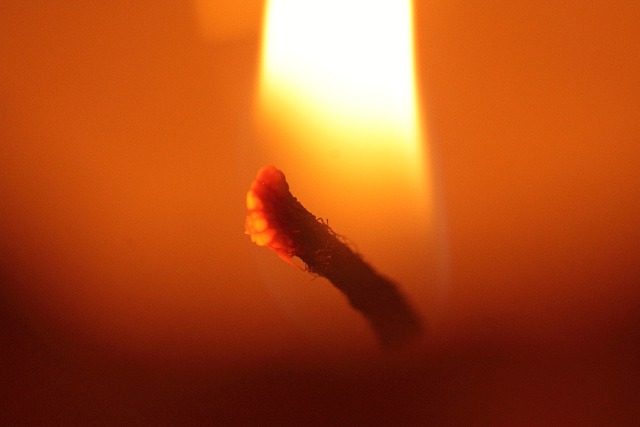 Once the shortening has melted, dip a wick into the melted shortening and then place the wick into an empty candle holder. Allow the wick to soak up the shortening for several minutes before lighting it.
Depending on how much shortening you use, the it should burn for several hours.
Crayons
The tenth and final item to use for emergency lighting is crayons.
Crayons are made of wax, which makes them ideal for burning. They can be lit easily and will burn for a long time. Crayons can provide enough light to help you find your way in the dark.
Simply light the end of a crayon and hold it up to a wall or ceiling for a small area of light. Be careful, though, as the hot wax will melt and drip down.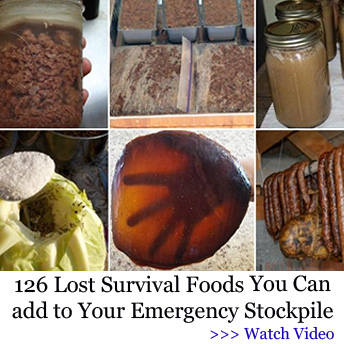 If you have kids at home, you may already have a supply of crayons. Crayons are great not only for kids but even many adults enjoy using crayons with coloring pages. This would be a great way to pass the time during a power outage.
Final thoughts on emergency lighting options
Giving some thought to emergency lighting will help you be prepared for when the power goes out.
There are several ways to light up a room or provide a source of light to see in the dark. Using one of the different types of emergency lights discussed above, you're sure to find at least one that best suits your needs.