You have a lot of choices when it comes to food storage items. Here we go over the reasons why coconut is one of the very best food choices for preppers.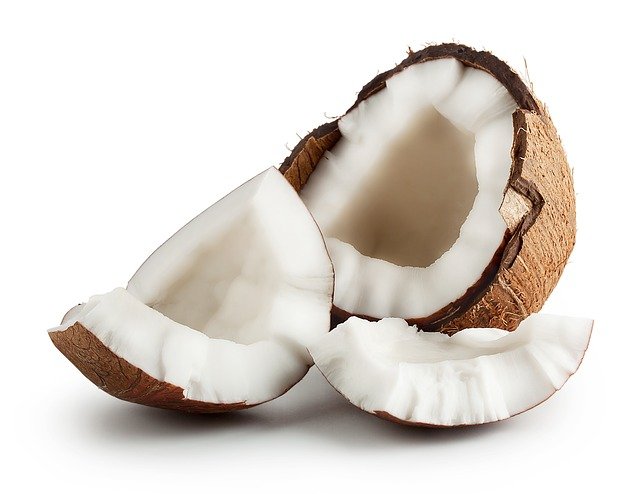 Different preppers can have a variety of goals with food storage. Some focus on maximizing shelf life, others emphasize low cost, and some go only for highly nutritious foods.
One of the best things about coconut is that it can tick most or all of the boxes to satisfy the requirements of preppers.
By clicking an affiliate link below, we may receive a commission on purchases at no additional cost to you.
Coconut has an Excellent Shelf Life
A top concern for preppers is obtaining foods that last a long time. After all, what's the point of food storage if something's going to quickly go bad?
Here's one of the areas where coconut really shines! Coconut in its various forms tends to have a really good shelf life. This is largely due to its saturated fat content. Of all the types of fasts, saturated fats are the most stable and least likely to oxidize or go rancid.
Coconuts naturally contain a range of fatty acids such as lauric acid and caprylic acid. These fatty acids have antimicrobial properties that can as as natural preservatives, keeping coconut products fresh longer.
📌 Save for later! 📌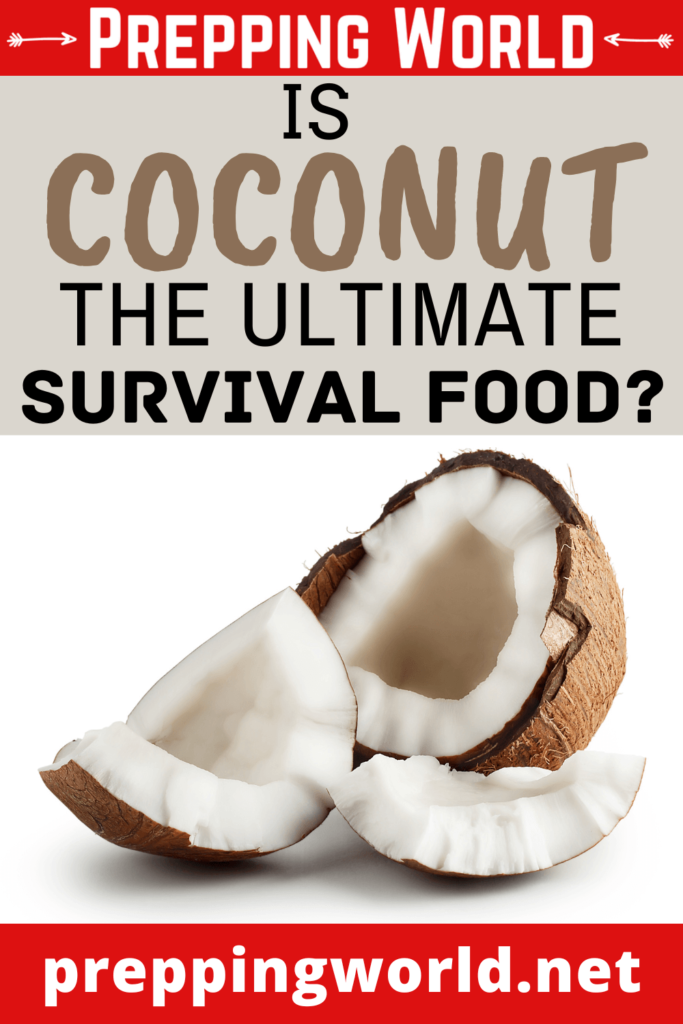 Estimates vary on how long different coconut products may last. However, based on our research and personal experience, here are some reasonable shelf life figures for popular coconut products:
Coconut Oil. Coconut oil comes in two forms, refined (non-virgin) and unrefined (virgin). Virgin coconut oil is the most shelf stable and has a minimum shelf life of 3 years from production, with some users reporting their virgin oil that's five years old still smelling and tasting fresh. Refined coconut oil has a shorter shelf life of 2 to 3 years. Liquid coconut oil has some of the fatty acids removed to keep it liquid at cool temperatures. It has a considerably shorter life than regular coconut oil, which is solid when cold.
Dried Coconut. Dried or desiccated coconut products such as flakes and shreds are made from the coconut meat. They go through a heating process to remove moisture. Because moisture is the number one enemy of food longevity, dried coconut tends to be very shelf stable. Some reports suggest a shelf life of only 6 to 12 months. This shorter life likely applies to the sweetened bagged coconut commonly found in grocery stores. Pure dried coconut is less moist, not sweetened, and can last 3 years or more when stored in low-humidity environment in a sealed container.
Coconut Flour. This product is made from finely ground coconut meat and is dried to remove moisture. Like dried coconut, it stays good for 2 to 3 years when stored in a sealed container in a low-moisture environment.
Coconut Butter. Similar in consistency to nut butters, coconut butter is made from ground coconut meat and has a much higher oil content than dried coconut and coconut flour. Because of the high amounts of saturated fat, it is one of the most shelf stable nut butters, lasting 3+ years.
Coconut Milk Powder. Made from dehydrated coconut milk, this product also boasts an impressive shelf life of 2-3 years. It is sensitive to moisture and stores best at room temperatures and very low humidity.
Canned Coconut Milk. Another shelf stable item, canned coconut milk lasts 3+ years.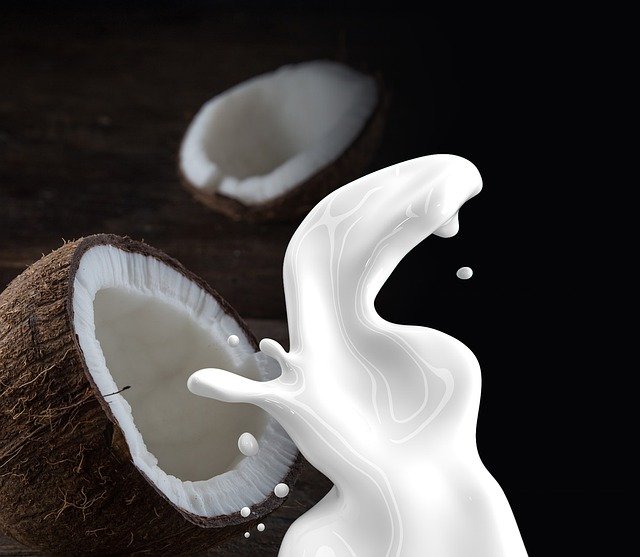 Coconut is one of the Most Nutritious Foods
Few foods can rival coconut when it comes to being a nutritional powerhouse.
Several features of coconut are unique in nature and qualify it as one of the most perfect foods. Fresh raw coconuts contain protein, carbs, fiber, fat and minerals. Quite an impressive nutritional accomplishment!
Although for years some elements of the medical community demonized coconut products as unhealthy due to saturated fat content, it's now recognized that coconut can be a very valuable part of a healthy diet.
Some of the many benefits of consuming coconut include heart health, weight loss, and immune support. Coconut oil is even thought to have a role in treating brain diseases such as Alzheimer's!
Because obtaining and storing fresh coconuts is out of the reach of most of us, obtaining high-quality processed coconut products is the best alternative.
Of all the available coconut products, coconut butter is one of the better options in terms of health benefits. It contains not only a sizeable amount of ground coconut meat but also significant quantities of coconut oil. This provides the advantages of both the meat and the oil in a single item.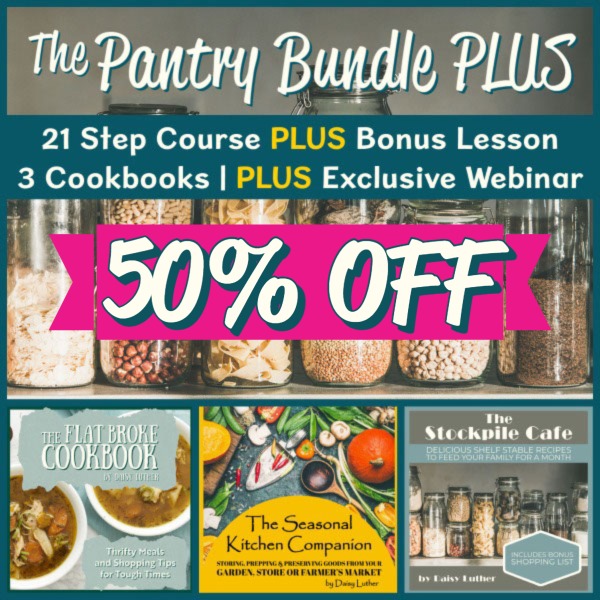 Coconut Products can be Affordable
Preppers who look for the cheapest possible food items probably won't go for coconut. But by shopping around, you can still find some really good deals on an assortment of coconut products.
As with any product, buying in bulk provides the best savings. For coconut oil, look for larger five-gallon sizes for the maximum bang for your buck. Although the initial investment is more, the cost per pound will almost always be less with larger sized items.
Coconut butter is typically not available in the same size as bulk coconut oil. But you can still look for bigger quart jars and buy them in bulk when possible.
Another option for buying discounted coconut products is using a buying club. These clubs offer either online delivery or in-person delivery through a bulk truck drop off (or both).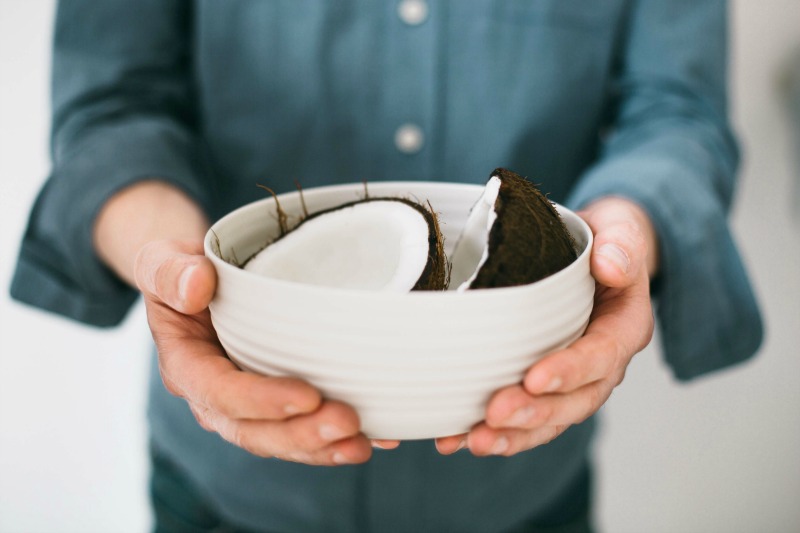 Our favorite buying club is Azure Standard. With this buying club you can purchase things like dried coconut, coconut flour and more!
And don't forget to shop local scratch and dent, Asian market, or health food stores where you can sometimes find good deals on coconut products.
Of course, if all else fails, there is always Amazon.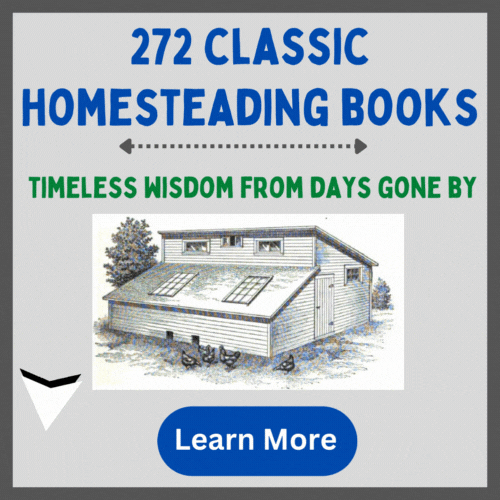 Final Thoughts on Coconut as the Ultimate Prepping Food
Preppers looking for nutritious food storage items that have a long shelf life and are affordable should take a close look at coconut.
Readily available as coconut oil, dried coconut, and more, this food is one of the best choices available to shore up your prepper pantry.
Is coconut a part of your food storage? Let us know in the comments below what you think about coconut.
CHECK OUT THE LATEST POSTS: